We wouldn't be where we are today without the beautilful art that adorns our walls and shelves: after all, before we ventured into food and drinks, we were a gallery. Our original vision in August of 2008 was to create a safe place for people to display their creativity. We believe that creativity is such an important part of each individual and to have that creativity honoured and shared with the community is inpiring for all. We have two different kinds of art displays: Wall Art and Market Art. Here is the breakdown of how our consignment works: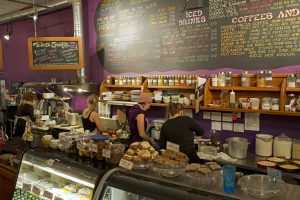 Wall Artists (painters, sculptors, photographers, etc.)
$60 for 3 months display, one free month more with sale

30% commission to The Art We Are

All items on consignment

Art must be picked up no later than two weeks after rental terms end (see reverse)

2 week notice must be given if you want to continue renting space

Rent begins as soon as we get the art up on the walls
Market Artists (jewelry, pottery, clothing, etc!)
No monthly rental fee

30% commission to The Art We Are

All items are on consignment

You may need to bring your own display stand (jewelry, clothing)

You must check with management before bringing more art as there is always a waiting list of artists
Payment
Payment for sales is on the 7th of each month for the entire month previous (for example, the payment on the 7th will not include the 1st to 7th of that month, only the 1st to the 30th/31st of the month prior)

Artist are expected to pick up payment each month

Artist who do not pick up payment for 3 months will have their art removed from display and will be contacted to pick up their art

We will invoice per month via email if sales are present
Checklist of things to have when bringing in art
Art!

Printed inventory for the art we are with artist info, prices and quantities.

All items MUST be tagged with price and initial of artist or name brand of business. Prices must include the 30%. Tags can be simple stickers or uniquely made tags! (be creative!)

Signed contract

If bringing in wall art please bring $60 cash for 3 months rent.
To get your art on the walls, you need only to sign our little contract and then give us some time to make some space for you!