As a small business, we understand how important it is to have the support of our local community; as such, we do our utmost to source our needs from other local, or British Columbia based, businesses. We shop for most of our daily produce at Fratellis across the street; during the summer we get the lettuce for our wraps from Deadman's Valley Organic Farm; we brew Kicking Horse Organic Coffee from Invermere; dairy for our drinks, baking, and cooking comes from Blackwell Dairy Farm.
Our paninis are made with The Village Cheese Company Artisan Cheese made in Armstrong; our deli meats, also for the paninis, and the farmers sausage for our soups are made in the Okanagan at Helmuts Kitchen in Vernon; our chicken is from Hallmark Poultry in Chilliwack; our eggs for baking, quiche, and some other entrees are Free Run eggs from Gold Egg in Abbotsford; we use organic matcha powder that is blended and processed in Nelson at Matcha Mountains; we belong to a community ordering group for some of our organic products such as dairy milk alternatives; other organic products for baking and cooking are ordered from Organic Matters located in Nelson; our gluten free flours are from Nature's Fare; we carry organic, raw, vegan, and ethical Zimt Artisan Chocolate bars and macaroons made in Vancouver; we carry Libre togo tea mugs from Gibsons.
Splinter Hill Wholistics provides locally grown and harvested herbal teas to enjoy instore or take home; one of our retail beverage options is locally made Bliss Tea Kombucha in Hibiscus and Ginger; we always have the latest editions of the downtown Echo, Kamloops This Week, and the Sunpeaks based SPIN; the majority of our printing (stickers, tags, flyers, daily lists, etc.) is done at KPA Printers, Noran Printing, and Universal Reproductions; our big beautiful chalk menu board was done by locally renowned artist, Alexander Moir-Porteous; our knives are supplied and sharpened regularly by Morton's; one of our paper supplers is Stemel Supply; as we have become more and more busy, we have needed the help of Bizzy Bee delivery service to keep us stocked; our gorgeous shelving, splendid tables, and wonderful benches were handmade by local superheroes Gary Grono and Ken Beck.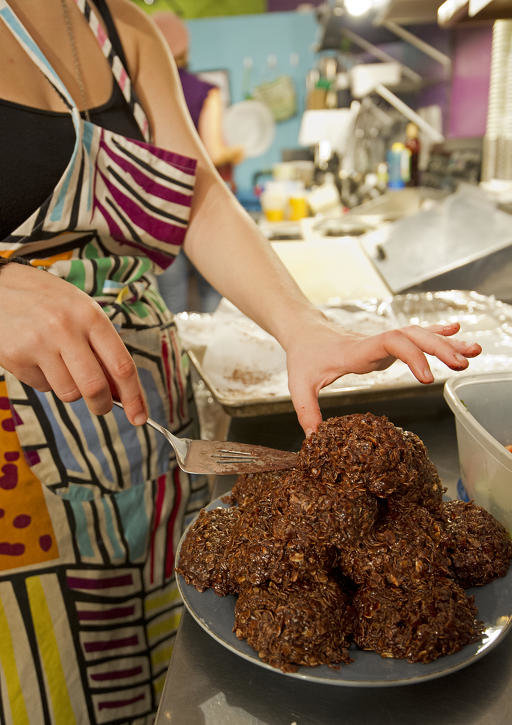 Services and Events
We have live music most Saturdays from 7pm to 9pm, local art all around the store, we advertise for local events in our poster alley instore, we have open mic night every second and last wednesday of the month, we host various events in store such as fundraisers, art shows, and speaker series', we offer a variety of catering options (please look under our catering tab), and we have the Coffee House Confessions that started from the little notes in the walls and grew into a performance event at Riverside Park during the summer of 2015.