The Art We Are Caters?! Isn't that the best news you've heard all day?!
Looking for prepared food that not only looks beautiful, and tastes great, but is healthy and local too? Take a look at our Catering Menu for a variety of meeting options including meals and desserts! We have tons of gluten free and vegan choices for both meals and snacks as well! Listed below is the popular selections of catering combinations, all of the food descriptions can be found in our FOOD MENU tab. We ask for at least 48 hours notice, and a minimum of a 10 person order.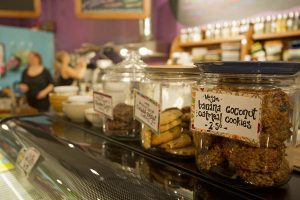 Most Popular Lunch:
Wrap and sandwich platter with a variety of deli salads $13 per person (this includes cutlery, paper plates and napkins)
Gluten free lunch option: Quiche with spinach and beet green salad for $8.25 per person or sub in any of our other salads for and extra $2.50
Add soup! We can also cater any of our soups for your group meals, in any of our options!
Small soup $7.15, with a vegan or gluten free cornbread option for an additional $0.25 per person.
There are so many options so please call us and we can customize your order just the way you want it!
Dessert:
We can add dessert platters for $2-$3 per person.
Platters will contain a variety of our desserts with gluten free and vegan options as well!
Whole cakes:
We can cater all of our cakes, and make our vegan brownies as a cake. When you purchase a whole cake, you get one piece free!
Chocolate Quinoa Cake for $43.75
Carrot Banana Cake for $43.75
Vegan Brownie Cake for $26.25
Delivery:
Delivery between $10 – $15 (Call for quote)
GST will also be added to every invoice.